As an amazon associate, this site may earn from qualifying purchases.


Here's a roundup of herpes news and research from 2015. Themes in this roundup are the study of different vaccines, treatments to keep the virus latent, and vaginal rings that release antiviral drugs.
Herpes News 2015: Research into Vaccines and New Treatments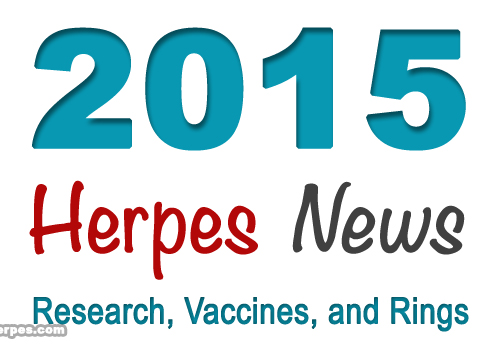 Enzyme-Inhibitors Keep Virus Latent
December, 2014: A study shows the HSV virus can be kept in its latent stage by blocking an enzyme known as LSD1. An MAO-inhibitor class of antidepressant that happens to block this enzyme had previously been known to suppress the virus. Now, scientists are working to isolate and study the compounds that block spread of herpes infection or reactivation of the virus in mice. Another release about the study says these enzyme-inhibiting compounds could be used in conjunction with antiviral therapy for even better outcomes managing HSV-1 and HSV-2.
Herpevac for Women Vaccine Fails Trials
A vaccine meant to prevent women from contracting genital herpes infection did not pass Phase III clinical trials (Herpevac Trial for Women). The study took eight years and used more than 8,000 female subjects. The vaccine, which was not effective for men at all, was only able to prevent instances of HSV-1. The researchers wanted something, however, that would prevent and protect from all types and strains of genital herpes infection. Therefore, they felt the vaccine wasn't worth pursuing any further. However, because the vaccine was effective against HSV-1 infection, they believe they are a step closer to finding something effective.
GEN003 Vaccine for Infected Patients

A vaccine from Genocea Biosciences, Inc. intended to manage symptoms and viral shedding is preparing for Phase III trials. The vaccine for already-infected people has previously been shown to reduce the amount of time the herpes virus was present on the genitals, meaning reduced viral shedding and contagiousness. Though it didn't eliminate shedding, it was significant enough to be pursued as an easier alternative to daily suppressive therapy with antivirals. A suppressive vaccine may last years.
Vaginal Rings Protect from HIV and HSV
A team of researchers at University Jean Monnet of Saint-Etienne in France have developed silicone vaginal rings that release antiviral drugs, particularly acyclovir and tenofovir, protecting women from HIV and herpes infection.
Thanks for checking out our roundup of Herpes News 2015! Check out more of our articles that you may be interested in: