Of all the dating sites for singles with STDs, Positive Singles is arguably the most established. Positive Singles is a dating site for people living with STDs of all kinds, but by allowing you to narrow your results you can only communicate people with the same STD as you (or any other you might be willing to accept). This Positive Singles review includes screenshots of the search features and more, so read on.
Inside Positive Singles Review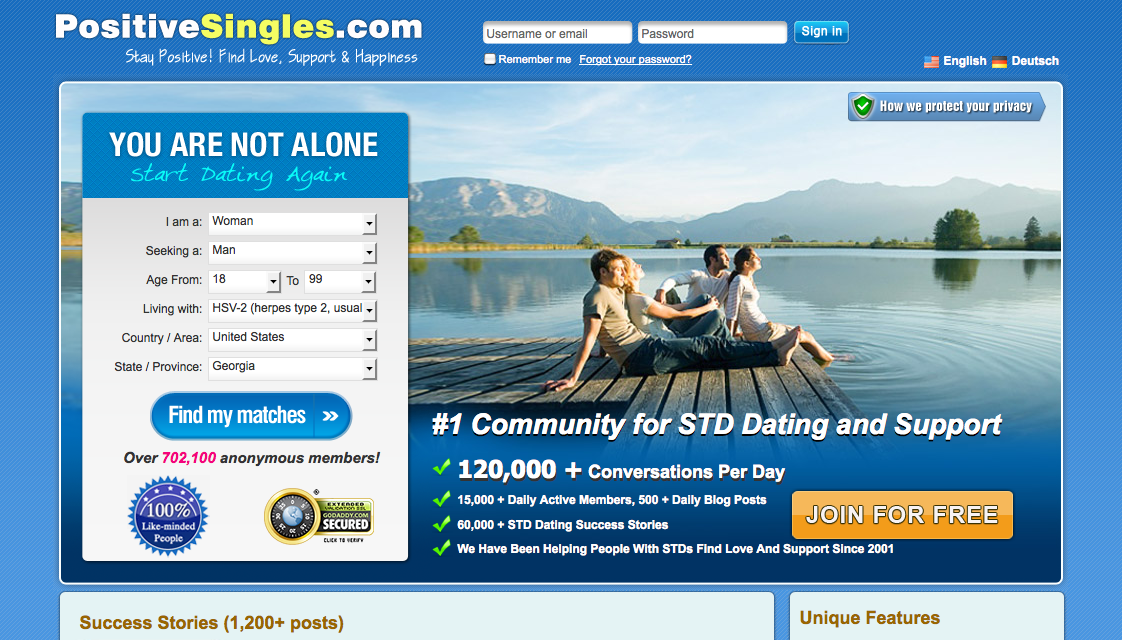 Active Members
As the homepage for the site (above) declares, the site hosts 15,000 daily active members and 120,000 conversations per day. Having tried out both the free and paid account myself, we also found that there is a large active community. We were surprised to find many people who matched our criteria locally.
---
Free vs. Paid Memberships
With a free Positive Singles membership, you can set up a profile, search members, receive messages, reply to messages, and add people to your "favorites" list. You can search people highly detailed criteria, but the one big downside is that you have to have a paid membership to narrow your results by STD. You can still visually scan the results for those with "HSV 1 or "HSV 2", but the paid membership makes this a less time-consuming process.
While you can reply to messages you receive, you will also need a paid membership to send the first message to someone. The way around this is to "favorite" a member you like, which sends them a wink. Then they can respond to your wink with a message and get the conversation started (assuming they have a paid account! If not, you're out of luck.).
As with any dating site, many people feel that the most serious candidates can be found on paid sites. It's sometimes a sign that the person is more serious in their search. Either way, you can at least sign up to Positive Singles and see how you like it before you decide to fully subscribe.
Another feature you may appreciate are privacy settings, but to get the full benefits of invitation-only photo albums, you need a paid membership.
---
Privacy Settings
Worried about putting up your photo on an STD site? Naturally. On Positive Singles, you have the benefit of privacy settings. You can set your photos to be viewable by all other members, or to be viewable only by your favorites. You can also have more than one photo album. You have the ability to create "private albums" that can only be seen by people you choose. That way, some photos can be public and others require special access. This is a feature that only paid members get to take advantage of.
What some people on the site do is publish one or two public photos that are skewed, dark, or even from the back. Then when someone sends them a private album request, they can allow or deny the person to see them.
It's a good idea to have at least one photo public to other members, since 1. they are generally in the same boat as you anyway and of course 2. you will get a lot more messages that way. It's the same on pretty much any dating site: if you have no photo, people are likely to just skim over you in search results.
---
Search
Here's a screenshot showing the different parameters you can search. As you can see, not only are there options to filter by STD, but also location, physical appearance, type of relationship desired, religion, education, ethnicity and more. You can also search for keywords in their profiles (common interests?). A cool feature here is that you can also name and save your searches for future use.
However, this is the paid membership search feature. When you have a free account, you can only search by gender, age, and distance. You can't even choose the STD you are searching for. This is just one of the several reasons I recommend the paid membership.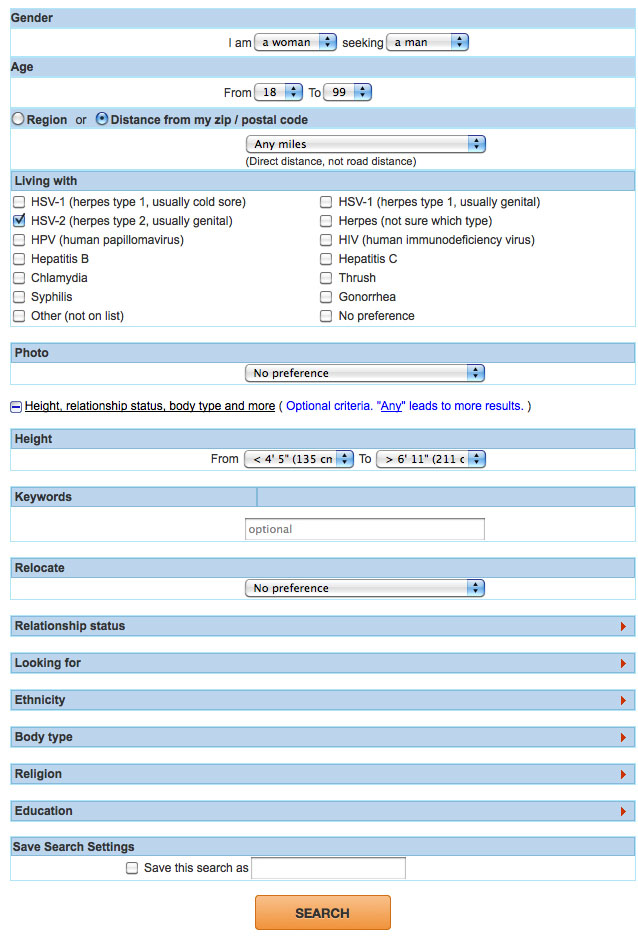 Positive Singles.com Price
If you do decide to upgrade to a paid membership, these are the prices on the site:
6 months (about $15.95 / month)
3 months (about $19.95 / month)
1 month (about $1.00 per day)
Found our Positive Singles review useful, and want to check it out? Go here for a free account on the website — or if you want to sign up for full access and features (even if you're trying it for free first), click here to sign up for a full paid membership. (They let you cancel anytime).